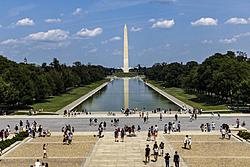 As the Delta variant spreads across the US, coronavirus cases are spiking among unvaccinated people, accounting for about 52 percent of infections, according to health officials.

The surge of cases in the US and in many countries, much of which are attributed to the now dominant Delta variant and low vaccination rates, is alarming not just health officials, but also top US economic officials who say it could threaten the global economy.

Treasury Secretary Janet Yellen said Sunday at the conclusion of a meeting of the finance ministers of the Group of 20 nations: "We are very concerned about the Delta variant and other variants that could emerge and threaten recovery. We are a connected global economy. What happens in any part of the world affects all other countries."

Low vaccination rates in some regions of the world pose a threat to the United States and global growth, the Federal Reserve's Mary Daly told the Financial Times last week. Daly, president of the Federal Reserve Bank of San Francisco, said it was important for the rest of the world to reach higher rates of vaccination, and the inability to achieve that would be a "headwind" to US economic growth.

Oil futures marked their first loss in three sessions on Monday, with prices dropping because of growing concerns about the spread of the Delta variant, which could decrease the demand for crude in parts of the world, commodity specialists said.

"Traders are now refocusing on the spread of the COVID-19 pandemic and global concerns over the new variants' expansion are weighing on prices, despite tightening oil supplies globally," wrote Louise Dickson, oil markets analyst at Rystad Energy, in a research note Monday.

"Infections are on the rise in several countries around the world and if restrictions need to be added or reinstated again, they could have an impact on economic growth, and consequently on oil consumption," the analyst wrote.

Nationwide, 48 percent of the US population is fully vaccinated, but about one third of those 12 and older in the US haven't received the vaccine, CDC data shows.

The US is averaging about 19,455 new cases over the last seven days, a 47 percent increase from the previous week prior, according to data from Johns Hopkins University, with 43 states seeing an increase in cases last week from the week before. One third of those cases are in Florida, Louisiana, Arkansas, Missouri and Nevada. Alabama, Arkansas, Louisiana, Wyoming and Mississippi all have around 35 percent or less of their populations fully vaccinated.

Hospitalizations are rising again. Deaths, a lagging indicator, also appear ready to start climbing. More than 99 percent of deaths are now among people who haven't been vaccinated, the Centers for Disease Control and Prevention (CDC) reports.

In Los Angeles County — the most populous in the US — coronavirus cases per 100,000 people jumped from 1.74 cases to 3.5 cases in one week, according to the county's public health department. Those who aren't vaccinated represent 99.96 percent of all new infections, the department said. Sixty percent of those over age 16 have been fully vaccinated.

The county recently recommended that residents resume wearing masks indoors regardless of vaccination status, over concern about the delta variant. The World Health Organization is also urging vaccinated people to wear masks, though the CDC hasn't changed its guidelines allowing vaccinated people to gather indoors without masks.

Dr Anthony Fauci, director of the National Institutes of Allergy and Infectious Disease, told CNN he thinks it's a good idea for mask mandates at the local level.

"We're talking about a life-and-death situation. We've lost 600,000 Americans already, and we're still losing more people. There have been 4 million deaths worldwide," Fauci said. "This is serious business."

He added that he expects vaccine hesitancy to lift when vaccines are fully approved. COVID-19 vaccines now are being administered under emergency use authorizations (EUA), which Fauci said has made some people skeptical as to their safety and efficacy. But the amount of data that supports the importance and safety of the vaccines is more than anything experts have seen for an EUA, he said.

"These vaccines are as good as officially approved with all the I's dotted and T's crossed," Fauci said.

Another concern for many experts as variants spread is whether the population will need boosters for their vaccines. Pfizer company officials will brief US government officials on Monday on the potential need for booster shots of its COVID-19 vaccine.

"Americans who have been fully vaccinated do not need a booster shot at this time," the CDC and the FDA said. Fauci also said a booster isn't needed now. He said that there are ongoing studies evaluating if and when the US will recommend booster shots.

The FDA is planning to warn that Johnson & Johnson's coronavirus vaccine can lead to an increased risk of a rare neurological condition known as Guillain-Barré syndrome, in which the immune system attacks the nerves, US health officials said Monday.

The CDC said in a statement it has received reports of 100 people who got the shot developing the syndrome, an immune system disorder that can cause muscle weakness, nerve damage and occasionally paralysis.

That number represents a tiny fraction of the nearly 13 million Americans who have received the one-dose vaccine. Most cases of the side effect were reported in men — many 50 years old and up — and usually about two weeks after vaccination.

The FDA plans to include the warning in fact sheets about the drug for providers and patients.

The government said the vaccines most used in the US, made by Pfizer and Moderna, show no risk of the disorder.

Health officials in Arkansas say that among the reasons people aren't getting vaccinated include pregnant women who are concerned about the impact of the vaccine on them and their unborn children, people who want to see further FDA approval of the vaccines beyond the current emergency use authorizations, and there are also those who believe in conspiracy theories about the vaccine.

The CDC said last month that young adults 18 to 39 said in surveys that they were reluctant to get vaccinated because they were concerned about side effects, didn't trust the shots, planned a wait-and-see attitude if the vaccine was safe or didn't believe vaccination was necessary.

Bài cùng thể loại :